Lila-Radhika Humanitarian Intercultural Senior Citizen Service Center Kathmandu Nepal – LIRA House – was founded in 2013 with the aim of establishing an open-world senior citizen center in Kathmandu, Nepal.
The project is intended to be a model project. The association is registered as a non-profit organization in Kathmandu. All founders of the association are from Nepal.
Lila-Radhika Humanitarian Intercultural Senior Center (LIRA HOUSE) was founded in 2013. We have set ourselves the goal of providing culturally sensitive care for people from different cultural backgrounds who are in need of care or are dying, including their relatives.
The mission is to enable seniors to spend their end of life in dignity and self-determination. The house offers inpatient care for about 120 seniors as well as infirmary for outpatient medical care.
In a day care facility, additionally up to 100 senior citizens are to be cared for every day. Since the senior center is to be largely self-sufficient, a large garden will be created for growing fruit and vegetables. In addition, it is planned to develop a model for an affiliated hospice in order to close the gap in palliative care.
The concept of the project also includes training of nursing staff, volunteers and voluntary helpers. In cooperation with a hospital, 10 people per year are to be qualified in a 3-year program. The trainees will be accommodated in an affiliated residential home.
The LIRA House senior center is intended to enable senior citizens who can no longer live alone and who are not taken in by their families to enjoy an evening of life in dignity and self-determination and to provide support in difficult life situations. LIRA House has set itself the goal of realizing a barrier-free senior center as a model project of holistic qualified care, therapy and support.
It aims to provide social and medical support to the elderly in a balanced social environment, regardless of social status, caste, religion, gender, sexual orientation or ethnicity, and to enable them to enjoy a dignified and relaxed retirement.
Dr. Dharma Raj Bhusal (Advocate)
(Chairperson)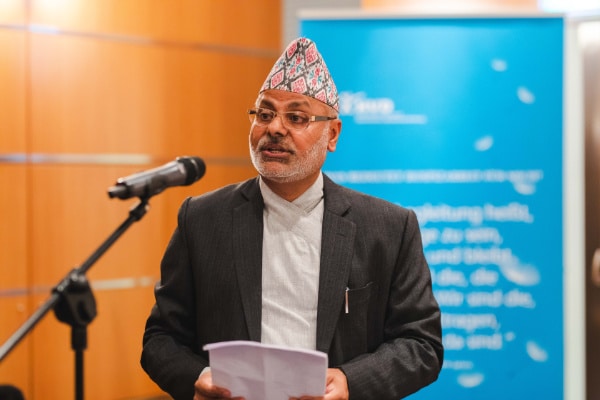 The initiative for this project came from the head of the Intercultural Outpatient Hospice Service Dong Ban Ja(Berlin), who had already gained a lot of experience in Germany in setting up and managing an intercultural hospice service.
Dr. Bhusal was born in 1965 in Nepal. He holds a doctorate in law, master's degrees in sociology and industrial engineering, and worked in Nepal for about 14 years as a civil servant and 2 years on behalf of the UN. He also volunteered in Nepal for various organizations, including as board member. In 2011 he founded the association Deutsche Humanitäre Initiativen für Süd-Asien e. V. in Berlin, which he also chairs.
He currently heads the intercultural hospice service Dong Ban Jain Berlin. Since 2014, he has been on the board of the Association for Intercultural Work (VIA). Dr. Bhusal is also chairman of the LIRA HOUSE association in Kathmandu.
Mr. Shyam Prasad Khatiwada
(Treasurer)
Mr. Khatiwada is a founding member and treasurer of LIRA HOUSE. He was born on February 19, 1965 in Tokha Mahanagarpalika in Kathmandu, has a Bachelor of Arts and speaks Nepali, Hindi and English. He also holds a diploma in computer training.
He is an active member of the Nepali Congress Party, has 16 years of working experience in the finance department of Kathmandu Upatyaka Khanepani Limited (KUKL, Nepal water supply corporation) and is a key person of the Employee Association at KUKL.
He has more than 12 years of experience as General Secretary at the KUKL Workers Association and has served as their Vice President for 3 years. He is also involved in other social networks and organizations.
Mr. Rabindra Sthapit
(Secretary)
Mr. Sthapit is a founding member of the LIRA HOUSE and board member. He has a Master's degree in Business and runs his own company The Queens collection Kathmandu.
Mrs. Bhandari was born in 1969 in Nepal and is a teacher and social pedagogue. She has been active in the Intercultural Hospice Service Dong Ban Ja in Berlin since 2014 as a volunteer hospice companion as well as in various other social associations. She is also a founding and board member of Lila-Radhika (LIRA HOUSE) Kathmandu.
Ms. Bhattarai is a founding member and another board member of LIRA HOUSE. She is a housewife and engaged in numerous social networks.
Mr. Pandey, born in 1977, is a dedicated member of the association's board. He holds a Bachelor's degree in Buisness and runs his own company Youwa Travel & Tours (P.) Ltd. in Kathmandu, Nepal.
Mr. (Advocate) Mahesh Acharya
Mr. Acharya is a lawyer, notary and artist and a dedicated member of the association's board. He was born in Shyangja, Nepal and currently resides in Kathmandu, Nepal. He holds a Master's Degree in fine Arts (MFA) and Political Science (MA) as well as a Bachelor's Degree in Law. He speaks Nepali, Hindi and English. His work has been shown in many national and international art exhibitions and won many awards. He is also involved in other social networks and organizations.
The Advisory Board sees itself as an independent forum that supports LIRA HOUSE in the development of suitable strategies and projects. It assumes the role of a panel of experts that accompanies LIRA HOUSE decision-making processes with diverse expertise and professional experience.
Through its composition it forms a link to the partner organizations of LIRA HOUSE, to government agencies and international institutions. The tasks and responsibilities of the sponsor of LIRA HOUSE remain unaffected.
Costs, participation and donation basis
The project has been calculated at 1.2 million euros for the purchase of the land, construction and furnishings. The costs are to be financed with donations, funds from the German Federal Ministry for Economic Cooperation and Development and a loan.
Negotiations are currently underway with the city of Kathmandu, which supports the project, for the free transfer or purchase of a plot of land.

You too can help to allow people to live a dignified life again: